ILIFE V5s Pro 2-in-1 Robotic Vacuum Cleaner
Regular price
$129.00
Sale price
$179.00
This is the ILIFE V5s Pro, the vacuum and mop 2-in-1 robot vacuum that efficiently picks up dust, debris, and pet hair from the hard floor and low profile carpets. This thing also mops your floors!
Details
Specially designed for hardwood floors
Powerful suction picks up the hair, dust, debris easily. Wet mopping catches the grime and dirt on the hard floor effortlessly. Check out all these features!
2-IN-1 SWEEPING AND MOPPING: The sweeping system provides a powerful suction in vacuum mode. Mopping system with an intelligent control water tank. One Robot, Two options.
ENHANCED MOTOR: Quiet, but still powerful. It can easily and efficiently collect debris, hair, dust, and dirt.
UNIQUE SUCTION INLET: The unique suction structure ensures that pet hair and dirt go into the dustbin easily which makes the V5s pro great for pet owners.
ENDURANCE CLEANING: Lasts up to 110 minutes of work, automatically docks and charges, and is always prepared to clean the floor.
What you get: 1 Robot, 1 Remote Control (2 AAA Battery Included), 2 filters, 1 AC Adapter, 1 Charging Base, 1 Cleaning Brush, 2 Side Brushes, 1 Water tank, 1 Mop holder (With 1 mop), User's Quick Guide, User's manual, and A 12-month warranty and a U.S. customer service team provide you with peace of mind and timely service. Any questions, call 1-800-631-9676 from 9:00am-5:00pm CST, Monday-Friday
i-Dropping Technology
The water tank stops dispensing water as the robot stops from mopping to prevent mechanical overload and floor damage.
Brushless Motor
V5s Pro is equipped with brushless motor, the suction level is higher and working noise is lower, especially when the vacuum is mopping.
Two suction modes for you to choose from.
Normal mode = 550 Pa
Max mode = 1000 Pa
Multiple Cleaning Modes
4 cleaning modes, allow you to choose the one that best fits your needs.
Auto Cleaning Mode
Edge Cleaning Mode
Schedule Cleaning Mode
Spot Cleaning Mode
Full Set of Advanced Sensors
With a full set of sensors V5s Pro won't bump into or damage furniture and walls.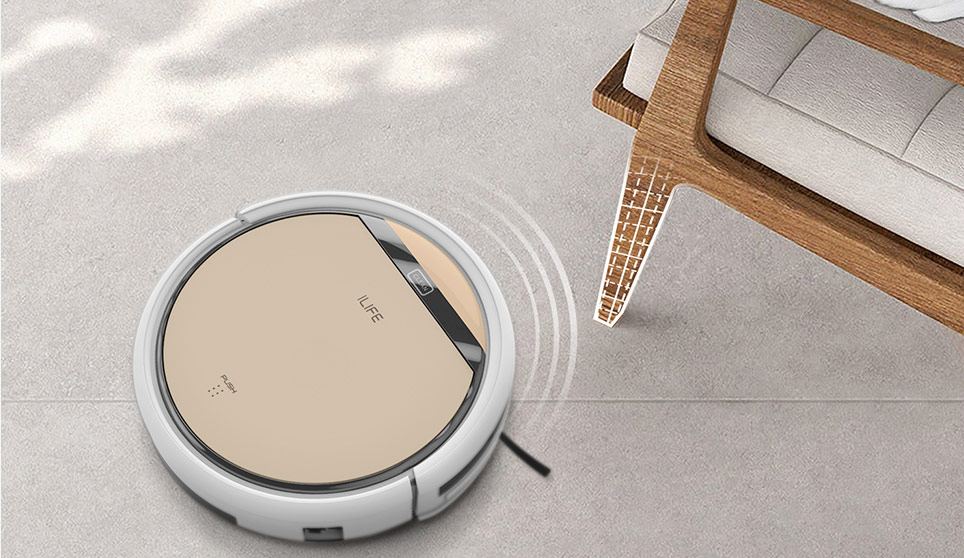 Cliff detection sensors prevent V5s Pro from falling downstairs.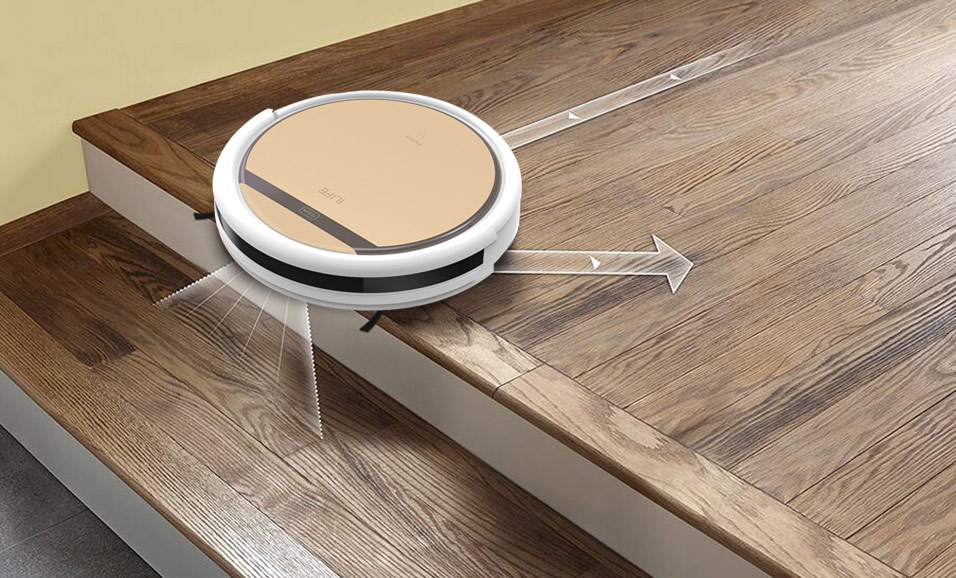 Clean Hard-to-Reach Areas
With its extra-slim profile, the V5s Pro can reach the dirt hidden under sofas and other furniture.
Self-Charging Automatically
No human intervention required, V5s Pro can go back to its dock to charge automatically when detected it's battery is low.
*Note: Put the charging dock in an open area. Ensure there are no foreign objects placed from 1m at both sides and 2m in the front.
Specifications:
Product Dimension: 300*300* 81mm
Net weight: 2.2kg
Color: Golden
Dustbin capacity: 300ml
Grade ability: 15 degrees
Ability to Cross obstacles: ≤10mm
Suitability: Tile, wood, carpet
Power: 100-240V(50/60Hz) 
Charging type: Auto Charging / Manual Charging
Cleaning mode: Auto, Spot, Edge, MAX
Charging time: 200-350min
Cleaning time: 90±10min
Simple Cleaning

Multiple cleaning modes are available to deal with different situations.

No Attention Needed

Drop sensors will help the V5s pro avoid falling down stairs or ledges.

Intelligent Protection

Sensors slow the V5s pro down and avoid or lightly tap your furniture.

Self-Charging

The V5s pro will go back the dock to charging when the battery is low.