POWER UP ALL YOUR DEVICES
The Grizzly Portable Power Station Delivers power you can rely on to power all your mobile devices, computers, electronics and emerfency equipment.
Recharge your drone
around 6 times
Recharge your Camera
around 15 times
Recharge your smart phone
around 22 times
Recharge your smart laptop
around 4 times
Recharge your smart lantern
around 25 times
Power your car fridge
around 12 hours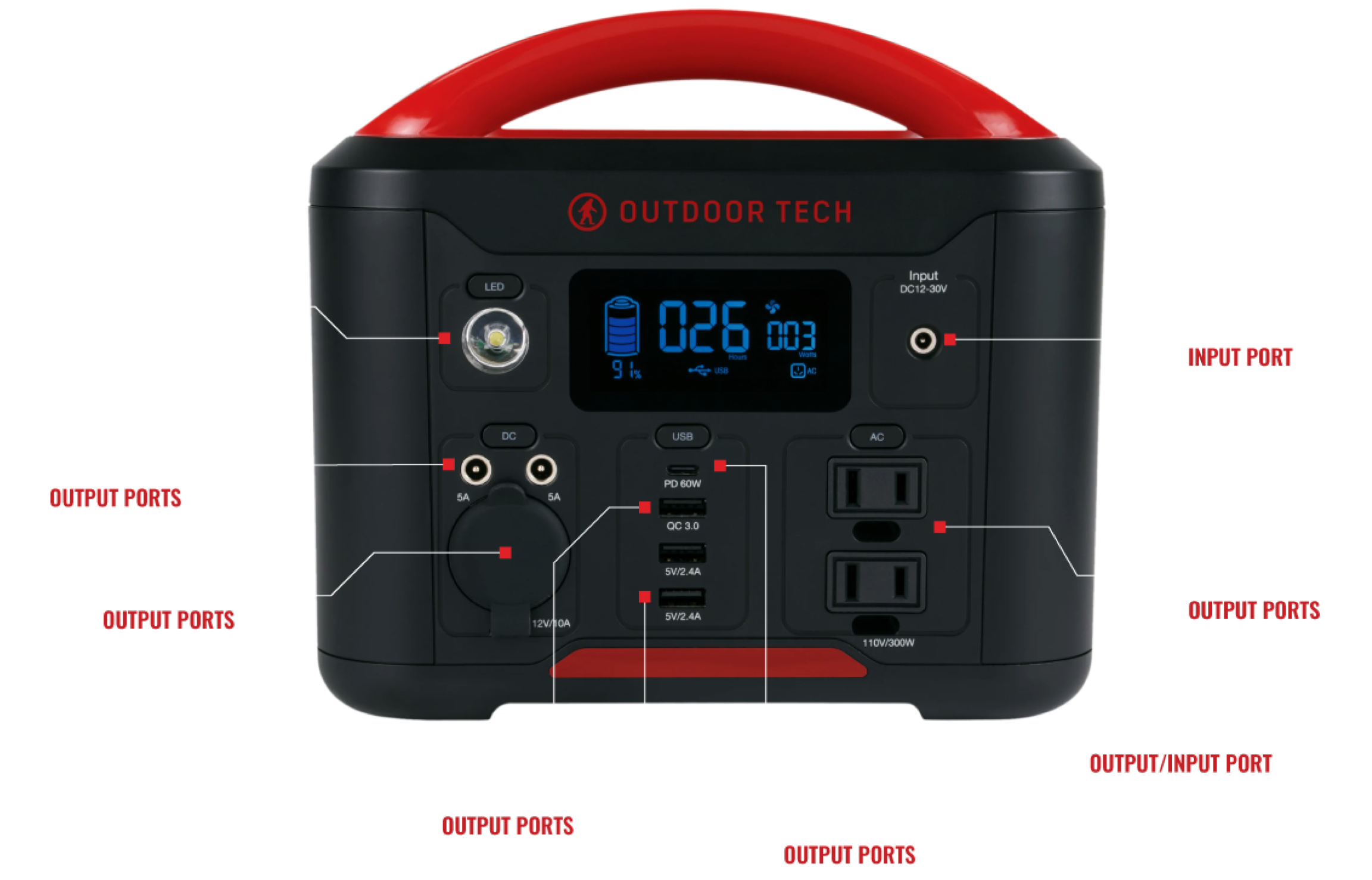 Portable power when you need it
There is an increasing need for power whenever we go. Whether your heading into the bear country or your camping off the grid, the Grizzly Power Station gives you the power you need to charge your devices.
With it's 296Wh lithium-ion battery 20,0000mAh high capacity pure sine wave technology, four USB ports, two 110V AC ports and 12V DC port, it can charge your small appliances and up to four smart devices at once.
Perfect for camping, RV, road trip, fishing, emergencies or wherever you need power. With its compact designa and easy carry handle you'll able to take it on all your advantages.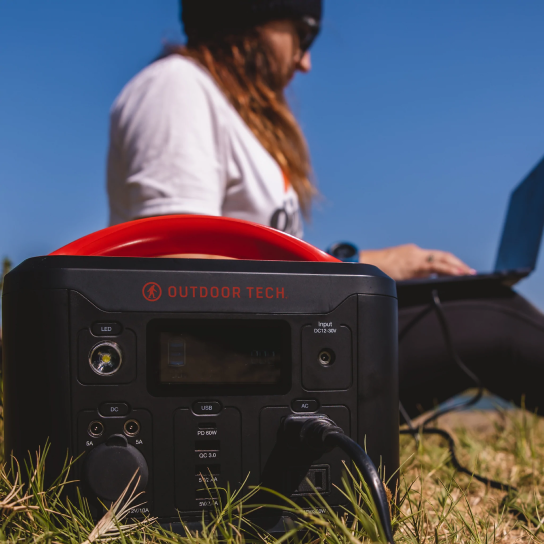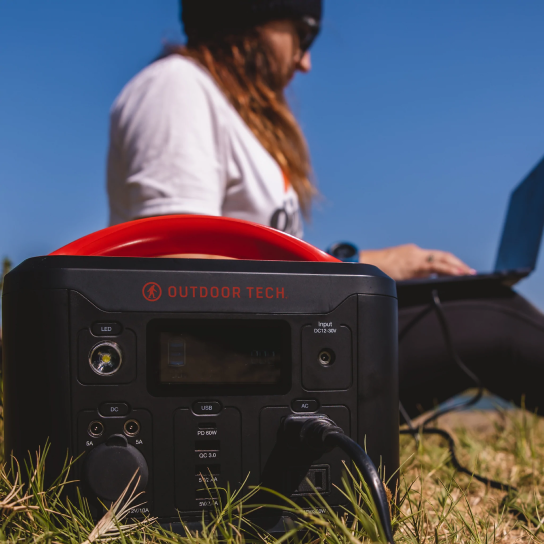 USB-C Input & Output:
(PD) Power Deliver-60 W 5V/3A, 9V/3A, 12V/3A

USB-A Output:
(QC 3.0) Quick Charge 5V/3A, 9V/2A, 12V/1.5A USB-C: PD 60W
POWER DELIVERY (PD) technology enables your device to take on more power in a sorter amount of time, which translates to superfas charging.

USB-A: QC 3.0 18 W
QUICK CHARGE (QC) Provides simple, safe and efficient charging of devices with superior speed.
FOUR WAYS TO CHARGE
WALL PLUG CHARGE (5+ HOURS)
Plug it into a wall socket. Fully recharges in 5+ hours using the included 72W Power Supply AC Charger cable.
CAR CHARGE (8+ HOURS)
Plug into a 12V car adapter using the included 12V Car Charging Cable. Fully recharges in 8+ hours.
SOLAR CHARGE (8+ HOURS)
Charge up to the sun by connecting a compatible solar panel. Charge times are dependent on the size of the solar panel. The Outdoor Tech Dawn Solar Panel will fully recharge the Grizzly Power Station in 8+ hours.
Solar Panel sold separately*
USB-C CHARGE (5.5+ HOURS)
Plug a USB-C cable into the Power Station to fully recharge in 5.5+ hours (based on 60W).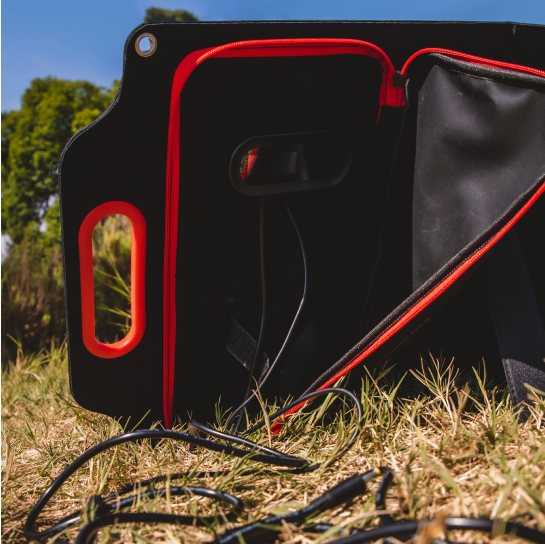 GOING OFF THE GRID?
Combining both off grid energy and portability, the Dawn 40W foldable solar panel brings power to you wherever your adventure takes you.
The lightweight yet durable design makes it great for camping, road trips, and more. It is an essential must have for avid outdoorsman.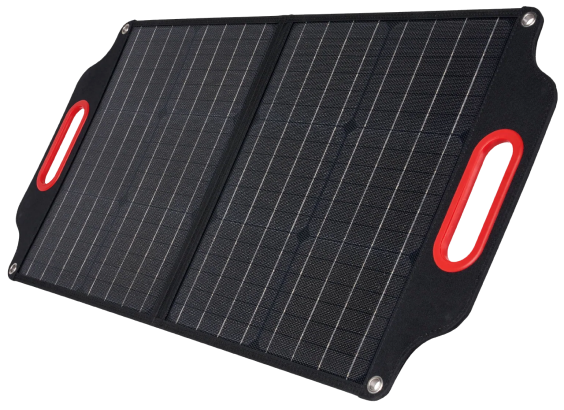 Built-In Charge Cables + USB PORT
Integrated USB-C cable, 8mm cable, 4mm and USB port let you charge a range of devices.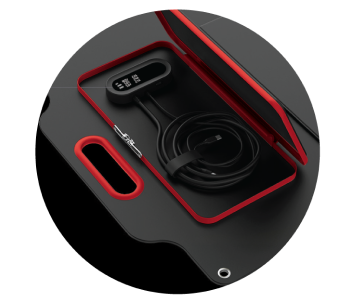 LCD DISPLAY
It's always clear how much power you are getting. The power output for each cable and port is displayed in Volts and Amps.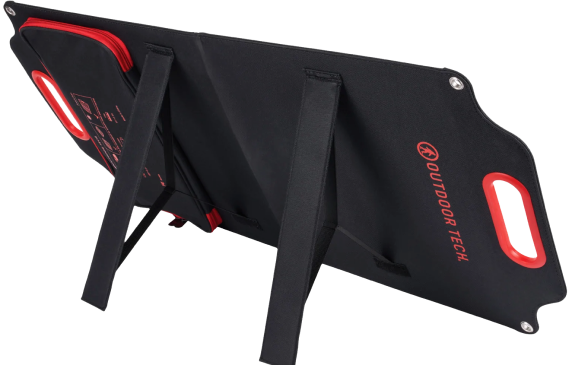 Built-In Kickstand
Our built-in, fold out, kickstand your solar panel at just the right angle for the most efficient solar collection. Giving you up to 25% more solar energy than laying flat.
GO OFF GRID
with the grizzly power station and the outdoor tech dawn solar panel
Outdoor tech dawn solar panel sold separately*
23% High Conversion Efficiency SOlar Cells
Outdoor tech solar panel
23%
The Dawn 40W solar panel uses high efficiency solar cells for higher power output.